본문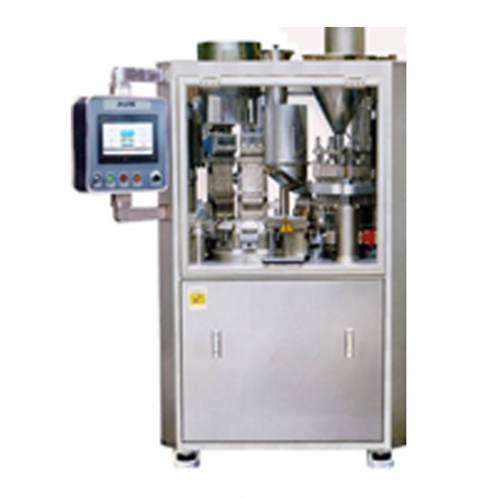 KSF-50

SOLID DOSE > Hard capsule encapsulator
Hard Capsule Encapsulator
Powder Tamping
Air powdered lift-up and down of powder, Hopper : control from Touch screen.
New design of tamping plunger holder provides easier removal and set-up of tamping plungers and also easier control of inserting depth.
Rigid and precise construction does not allow any inflow of foreign particles.
Turn -Table
​High precision of capsule segment and the holders with excellent finish.
Extremely easy removal and set-up of segments.
Level-up of turret fabrication toward convenience ensures high stability and easy maintenance.
VIDEO
PDF DOWN
KSF-150
◆ Capsule Closing & Ejection & Cleaning
- Tool-less dismantling & set-up.
- Further convenience on cleaning and change-over.
◆ Operation
- Well organized elements on touch screen reads easy operation.
- Interactive safety devices with visible diagnosis of trouble.

◆ Function Chart
① 1st' Capsule sorting & separation.
② 2nd' Capsule sorting & separation.
③ Pellet & Tablet filling.
④ Powder filling.
⑤ Pellet & Tablet filling.

⑥ Faulty capsule ejection.
⑦ Capsule closing.
⑧ Discharge of field capsule.
⑨ Cleaning of segment.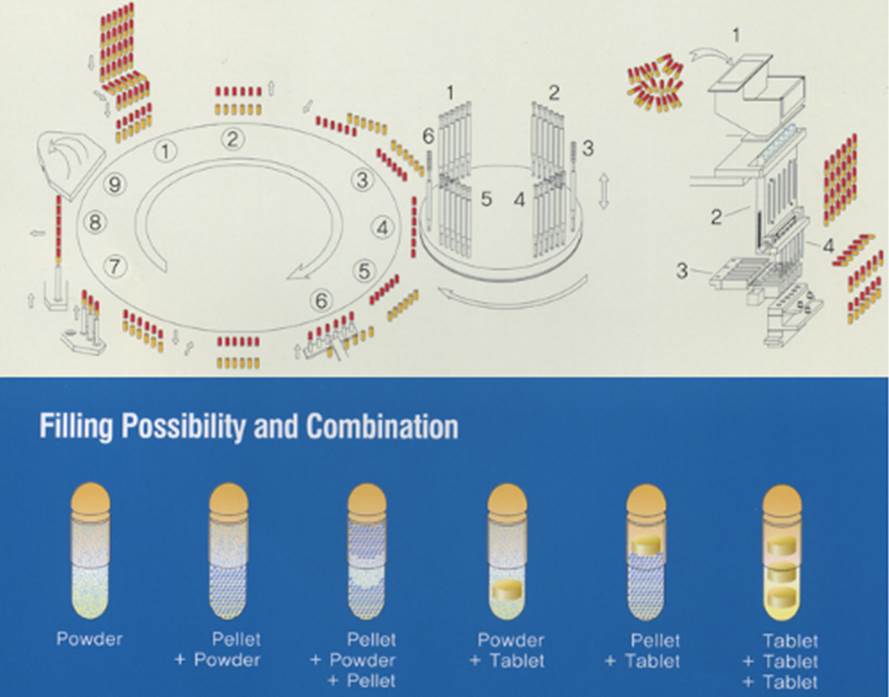 ◆ Size Change Parts

◆ Optional items
- Automatic powder loader
- Automatic capsule loader
- Capsule polishing machine
- Dust Collector

Specification
 
KSF-25
KSF-50
KSF-100
KSF-150
Capsule Size #
00,0,1,2,3,4,(Option 000, 5)
Max. Production Quantity(Powder)
25,000
50,000
110,000
150,000
Max. Production Quantity(Pellet)
18,000
36,000
85,000
120,000
Max. RPM of Turn Table
140
140
130
130
Power Consumption
4kw
5kw
6kw
7kw
Dimension(W x D x H)(mm)
900x1,100x1,700
1,200x1,470x1,850
1,650x1,650x2,030
1,750x1,750x2,100
Net Weight(Approx.)
950kg
1,350kg
1,950kg
2,500kg