본문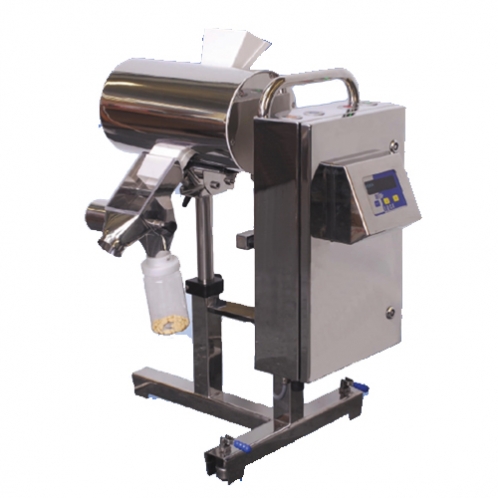 KIS MET30+

SOLID DOSE > AutomaticTablet presses
Universal Tablet Metal Detector
Principle
The NEW DIGITAL NET 30+ Universal Pharmaceutical machine is the metal detector of choice by the worlds leading pharmaceutical companies.
Offering metal detection levels down to 0.1mm, it can detect and reject metallic particles in pharmaceutical production lines at speeds of up to 30,000 tablets per minute.
Where the NET 30+ Universal really excels is in its ability to create stable and sensitive setups with difficult product applications.
Lock's innovative ADC technology allows operators to view product data in real time.
Robustly designed, the MET 30+ Universal pharmaceutical unit is easy to move into or out of position for cleaning.
Placing the search head at the appropriate height for our production line could not be simpler with
lock's unique three dimensional gas strut stand which is suitable for use in any configuration.
VIDEO
PDF DOWN
Characteristics
- Design & Construction compliant with 21 CFR Parts 210 and 211.
- BATCHECK records and signatures management compliant with 21 CFR Part 11.
- Independently ATEX approved.
- Validation Documents : IQ,OQ,PQ, Calibration standards and certification.
- 30,000 per minute throughput.
- Digital control and signal-processing.
- User-Friendly operation.
- Auto-learn and automatic product tracking features.
- Full Stainless Steel constructed detector-withstands aggressive cleaning.
- Detector certified to NEMA 4(IP65) sealing standard.
- Networking options : RS232/485 or Ethernet data-link ports.
- Failsafe reject options : Lift-flap, Diverter, Wash-in-Place and Dust-tight options.
- Hi-line, Standard or Low-line systems available featuring Locks unique three axis gas strut stand.
- Standard 19 language menu.
Calibration Sensitivities
| | | | |
| --- | --- | --- | --- |
| Head Size | Ferrous | Non-Ferrous | STS 316L |
| 95mm x 22mm | 0.25mm | 0.3mm | 0.4mm |
| 95mm x 38mm | 0.3mm | 0.35mm | 0.5mm |
images