본문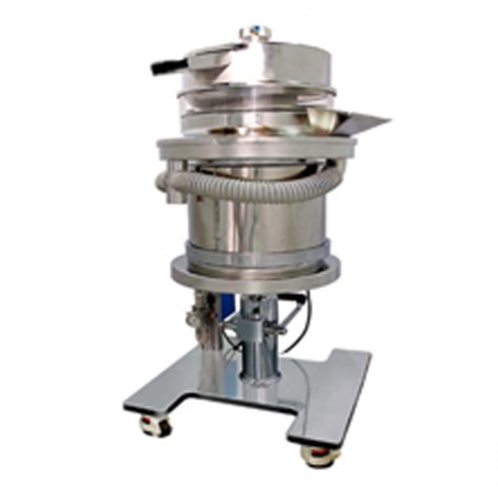 KSTDU-40

SOLID DOSE > AutomaticTablet presses
Tablet De-Duster
Feature
Tablet de-duster model KSTD-40 and KSTDU-60 is specially designed cleaning system, which removes powder or dust from the finished tablets, which are pressed and then discharged by vibration.
Tablets turn over several times while compressed air blows off any loose dust on the tablets.
It meets the most stringent require meets in terms of GMP compliant design and construction quality.
- Variable intensity vibrator and stepped screen.
- Variable speed operation.
- Adjustable height for use with any type of tablet press.
- Sturdy 304 stainless steel construction with acrylic housing to meet GMP requirements.
- Products Contact parts applied STS 316L Material.
- Vacuum nozzle for dust control.
- All contact parts can be quickly dismantled for quick, easy, thorough cleaning.
- Easy to operate and maintain.
VIDEO
PDF DOWN
Specification
Model
KSTDU-40 (Uphill type)
KSTDU-60 (Uphill type)
Capacity
400,000 tab/h – 5mm round tablet
350,000 tab/h – 8mm round tablet
300,000 tab/h – 13mm round tablet
300.000 tab/h – 5mm x 4mm oval tablet
100,000 tab/h- 19mm x 7mm oval tablet
150,000 tab/h- 19mm x 7mm oval tablet
Dimension(mm)
450(W) x 450(D) x 1168(H)
460(W) x 500(D) x 1427(H)
Tablet Input Height(mm)
845~1005m (Available Adjustment)
715~865mm
Tablet Exhaust Height(mm)
Max. 910~1070mm (Available Adjustment)
845~995mm
Input Suit Width(mm)
130 x 80mm
115 x 40mm
Exhaust Suit Width(mm)
75mm
85 x 35mm
Electric
220V, 50/60Hz, 1Ph
Transfer Speed
Vibration Type(Available Speed Control)
Air Consumption
200㎥/h – WS 200mm.
Collector hose Diameter(mm)
ф32
ф38
Material
STS304 and Pharmaceuticals contacts STS316L
Weight
97kg
135 kg