본문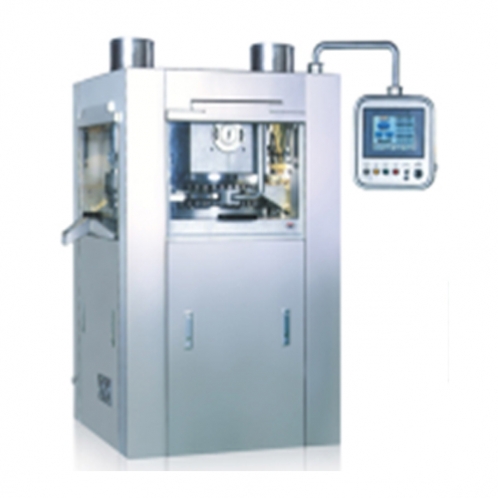 KP5 Series

SOLID DOSE > AutomaticTablet presses
Automatic Tablet Press
KP5 Series
KP5-Series tablet press designed to product a single layer and double layer tablet with high speed.
It's designed based on GMP standard and easier operation & simple maintenance.
The machine could be expected high efficiency and increase high quality tablets productivity.
According to GMP standard, the compression area is paint-free and completely covered by stainless steel the compression zone.
The compression zone and upper punch cam could be assemble & disassemble without any tools.
Thus changeover time and cleaning time is very fast & convenient.
Feature
- Double sided press.
- 2 layer production.
- 41, 49, 59, 65 station.
- PLC control platform.
- According to GMP regulations.
VIDEO
PDF DOWN
Specification
Model No.
KP5-65
KP5-59
KP5-49
KP5-41
Number of station
65
59
49
41
Punch Type
EU 19
EU 1"
(IPT/TSM19)
(IPT/TSM 1")
Tablet output/h max.
min.
156,000
141,600
117,600
98,400
max.
546,000
495,600
411,600
295,200
Revolution of disk
rpm
20~70
20~70
20~70
20~60
Max. pressure(ton)
ton
10
10
10
10
Max. tablet- Round
mm
11
13
16
25
Max. tablet thickness
mm
8.5
8.5
8.5
8.5
Max. filling depth
mm
18
18
18
18
Upper- punch penetration depth
mm
3~6
3~6
3~6
3~6
Pitch circle diameter
mm
Ø572
Die plate diameter
mm
Ø22
Ø24
Ø30.16
Ø38.10
Die plate height
mm
22.225
22.225
22.225
23.8
Punch shaft diameter
mm
Ø19
Ø19
Ø19
Ø25.35
Punch length
mm
136.6 (133.35)
Power of main motor
kw
11 kw
Net dimension
mm
1,140 mm x 1,200 mm x 2,075 mm (with hopper)
Without hopper
mm
1,140 mm x 1,200 mm x 1,840 mm
Net weight
kg
4,800 kg approximately
Power supply 
220/380 V, 50/60 Hz, 3 P
images