본문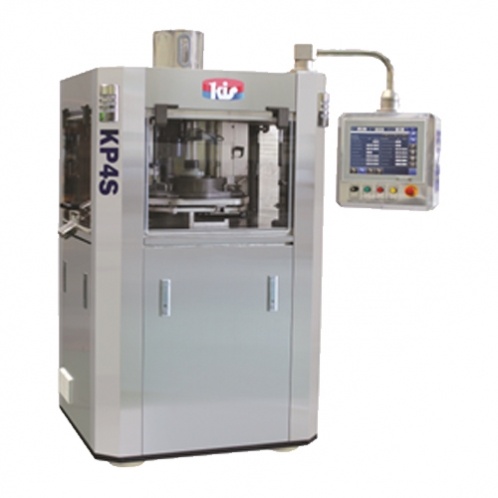 KP4S Series

SOLID DOSE > AutomaticTablet presses
Smart Automatic Tablet Press
KP4S Series
KP4S-Series is a newly developed high-speed automatic rotary tablet press with equipped a smart TCS® Tabletting control system. It's designed based on cGMP standard and easier operation & simple maintenance.
The machine established high efficiency and increase high quality tablets productivity.
Smart Tablet press, KP4S-Series controlled by the computer system is designed in compliance with 21 CFR PART 11 and manufactured suitably for the unmanned production environment.
According to cGMP standard, the compression area is paint-free and completely covered by stainless steel the compression zone.
The compression zone and upper punch cam could be assemble & disassemble without any tools.
Thus changeover time and cleaning time is very fast & convenient.
Special Feature
"KIS" Standard Operation Procedure Software package Acknowledgement systems by "TCS® Tableting Control System, memory programmable controller PLC and overhead Industrial Computer PC for :

◆ Software
- Advanced User friendly Software
- Main Compression force measurement (Available with Automatic Weight Regulation)
- Automatic mode process (in conformity with GMP regulation)
- Software Calibration for analog and digital instruments.
◆ User Option
- CFR 21 Part 11 Conformity
- Report Package Includes : User, Batch Result , Operation , Audit Trail
VIDEO
PDF DOWN
Specification
Series
KP4/KP4S-Series
Model No.
KP4-45
KP4-36
KP4-30
KP4-S45
KP4-S36
KP4-S30
Number of Punch
45
36
30
45
36
30
Input Power
380V, 3Phase, 50Hz
Standard Tooling
EU 19
EU 19
EU 1"
EU 19
EU 19
EU 1"
(IPT 19)
(IPT 19)
(IPT 1")
(IPT 19)
(IPT 19)
(IPT 1")
Output/Hour
Min
40,500
8,640
7,200
40,500
8,640
7,200
Max
270,000
216,000
135,000
270,000
216,000
135,000
Number of Rotation(rpm)
15~100
4~100
4~75
15~100
4~100
4~75
Max. Tablet
Round(mm)
13
16
25
13
16
25
Diameter
Shaped(mm)
14
19
25
14
19
25
Max. Tablet Thickness(mm)
8.5
Max. Filling Depth(mm)
18
Upper Punch Penetration(mm)
1~6
Max. Pre-Compression Force
2 ton
2 ton
3 ton
2 ton
2 ton
3 ton
Max. Main Compression Force
8 ton
8 ton
10 ton
8 ton
8 ton
10 ton
Pitch Circle Diameter(mm)
420
Diameter of Die(mm)
24
30.16
38
24
30.16
38
Height of Die(mm)
22.22
22.22
23.8
22.22
22.22
23.8
Punch Shaft Diameter
19
19
25.4
19
19
25.4
Length of Punch(mm)
133.6(133.5)
Feeder Type
Mechanical Type
Control Type
PLC+ Touch Screen Control
PLC+Smart TCS® Computerized
Auto Weight Control Module
Not Support
Support
TCS Control System (SW+HW)
Not Support
Support
21 CFR Part 11 Conformity
Not Support
Support
Reject Module
Not Support
Support
Touch Screen(HMI)
11" Touch Panel
15" Touch PC(IPC)
Power Consumption(Kw)
8
Dimension(mm)(Including Hopper)
1,000mm(L) x 1,225mm(W) x 1,998mm(H)
Weight(kg)
Approx. 3,800
images