본문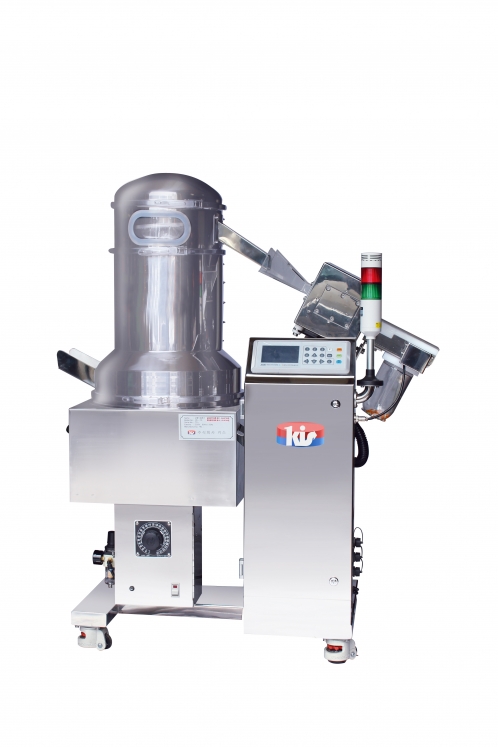 KHSM1200

SOLID DOSE > AutomaticTablet presses
Tablet Metal Detector
Principle
KIS KHSM1200 allows vertical de-dusting and deburring of any type of tablets.
Stepless vibration creates a vertical ascension of the products.
The de-duster's height can very between 500mm and 1200mm in direct relation with the outlet height required.
The "KHSM1200" de-dusters are equipped with a metal particles detector.
As metal particles detectors are very sensitive to vibrations, the vibrating parts of the de-dusters are isolated from the steady parts of the frame.
This permits reaching an optimal accuracy such as a spherical stainless steel part of 0.5mm in the products.
A high speed rejection mechanism instantly rejects non conform products.
The construction of this special frame saves space into the production room and reduces the retention areas.
In addition, the circuit if tablets is therefore totally closed between the inlet into the de-duster and the outlet of the metal particles detector.
VIDEO
PDF DOWN
Characteristics
- No external cover vibration

- Inlet/Outlet height adjustment
- Inlet/Outlet direction adjustment

- Flexible position of the metal check
- Electrical cabinet

- All cables are integrated in the unit frame

- Lifts the products during the process

- New dust extraction concept
- Low noise release

- Continuous TIG welding
- Quick dismantling-assembling

- IQ/OQ validation protocol available
Calibration Sensitivities
| | | | |
| --- | --- | --- | --- |
| Head Size | Accuracy Ferrous | Accuracy Non-Ferrous | Accuracy STS 316L |
| 95mm x 38mm | 0.3mm | 0.5mm | 0.5mm |
images