본문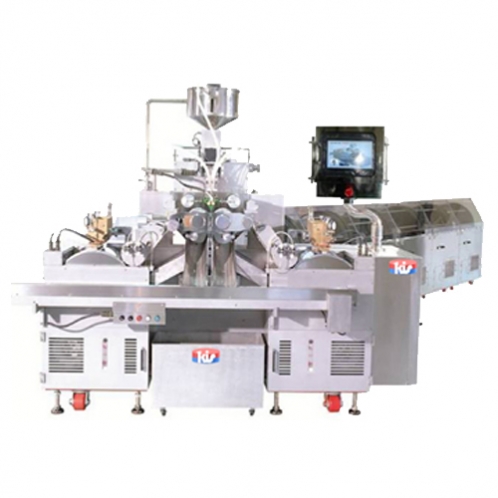 SG-10

SOFT GELATIN > Encapsulation equipment
Soft-gel Encapsulation Machine
Characteristics
- Characters of solvent Free system (option)
* Production cost is reduced with the tiny amount of M.C.T oil.
* No need for solvent cleaning.
* Quality capsule production is guaranteed thanks to good sealing.
- Medicine pump, providing accurate content with ±0.06㎖ error in capsule filling.
- High productivity and diverse kinds of soft gelatin capsule(oval, oblong, round).
- Easy assembling, disassembling and cleaning by clamping the piping of medicine hopper with one touch way.(Suitable for regulations of GMP and FDA)
- Die Roll can be precisely and swiftly set through a magnifier.(The key aspect of soft gelatin capsule is the edge of Die Roll)
- Selected common driving method with cooling drum and oil lubrication.
- Injection segment with the use of linear motor and L.M. guide.
- Control panel with selection of modernized automatic control method.
- Touch screen method can be made for production (option)
- Production follows the regulations of GMP & FDA.
VIDEO
PDF DOWN
Specification
Model
SG-10
SG-16
Production Capacity
71,280Cap/H(#10 Oval)
111,6000Cap/H(#10 Oval)
Production Rate
Max. 5 RPM
Max. 6 RPM(Normal 5~6RPM)
Size of Die Roll
Ø150mm(Diameter) x 250mm(Length)
Quantity of Plunger
20 Plunger
32 Plunger
Size of Cooling Drum
Ø500mm(Diameter) x 280mm(Length)
Main Motor(HP)
3HP with speed controller
Power Source
AC 220/380V, 3Phase, 50/60Hz, Approx. 24Kw
Dimension
2,350mm(L) x 1,033mm(W) x 2,050mm(H)
Weight(kg)
Approx. 1,900kg
Solvent free system
Option : F.M.I Pump
Soft-gel Capsule Process flow
images