본문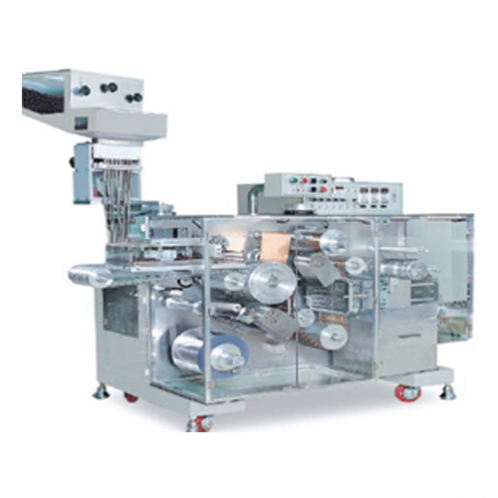 BP – M70

SOFT GELATIN > Others
Capsule blister packing machine
BP – M70
BP-M Series(M70/M140) is rotary type P.T.P Packaging machine.
It can pack diverse kinds of capsules with high spatial efficiency thanks to its compact size.
BP-M140 is a superior P.T.P Packaging machine at optimal price, manufactured.
As to more compact low-price machine based on the high technology researched and developed to date by the KIS Corporation.
Compare this machine's high economy values, such as versatility, material range, space requirement material economizer system, and give us your order.
VIDEO
PDF DOWN
Specification
Model
BP-M70(single)
BP-M140(double)
Forming Method
Vacuum durm Forming
Sealing Method
Roll type heat seal
Product
Rote
Tablet
Max. 1,400 Tab/Min.
Max. 2,800 Tab/min
Hard Capsule
Max. 1,400 Caps/Min.
Max. 2,800 Caps/min
Soft Capsule
Max. 1,200 Caps/Min.
Max. 2,400 Caps/min
Maximum
film with
P.V.C film
Max 145Min
Max 245Min
AL-Foil film
Max 145Min
Max 245Min
Facilities
Date
Electric power
3 Phase AC220V/380V/440V, 8kw
Cooling water
4 ℓ/min
 
Air Pressure
5kg/㎠ more than
 
Dimension(mm)( L X W X H)
1,400 x 1,030 x 1,950
1,400 x 1,130 x 1,950
Weight
aAbout 800kg
About 1,000kg