본문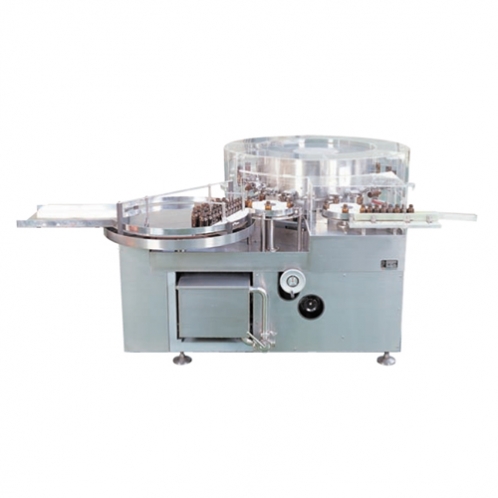 WT-2000

LIQUID FILLING > Injection automation line
Washing Machine for Bottles
WT turn table type cartridge bathing device
Highly reliable cleansing, cartridge supply by turn table, various size of cartridge and wide selection of production range
WT device is mainly used for cleaning that requires no ultrasonic cleaning.
Container is supplied through revolving table with the size of 1,000mm maximum diameter.
The container is arranged in a row and transported to moving gripper through Inlet star wheel.
Then, moves to the next process as it is outputted through outlet star - wheel.
VIDEO
PDF DOWN
Processing sequences
1. Supply table
2. Revolving table
3. Inlet Star Wheel
4. Catch the container then turn180
5. Clean the internal/external parts of the container with distilled water
6. Clean the inside of the container with compressed air
7. Clean the inside of the container with distilled water
8. Clean the internal/external parts of the container with compressed water
9. Silicon treatment to the container (option)
10. Outlet star Wheel
11. Output to next processing stage


Technical Data
Description
MODEL WT
2000
Number of Gripper
40
Output(Vials/min : 10㎖
200
Electricity
Consumption
Installed Power
220/380V, 50/60Hz. 16KW
Main Drive
0.75KW
Recycling Pump
2.2KW
Boost Pump
1.5KW
Heater(option)
9KW
Ultrasonic Generator
None
Dimension
Length
2,700mm
Width
1,980mm
Hight
1,380mm